Application
To avoid the passage of undesirable particles, which may clog the outlet pipe, the use of an adaptable and removable strainer for cleaning the pipe is a technical advantage.
Description
In general, the flow limiter can be made according to the figure above and can be composed of the following elements:
A removable strainer made to measure usually with an outside diameter of 160[1] mm
A calibrated orifice
An overflow[2] (recommended).
All elements of this flow limiter, in PVC, are custom-made, in order to guarantee an optimal flow.
[1] Different diameters are available: Ø 110, 125 160, 200, 250, 315, 400 mm, etc.
[2] Depending on the length of the overflow, a clamp may be required.
Strainer
The threaded strainer ensures easy installation and disassembly for maintenance/cleaning of the outlet pipe. Various options are available to the clients, depending on the particular needs.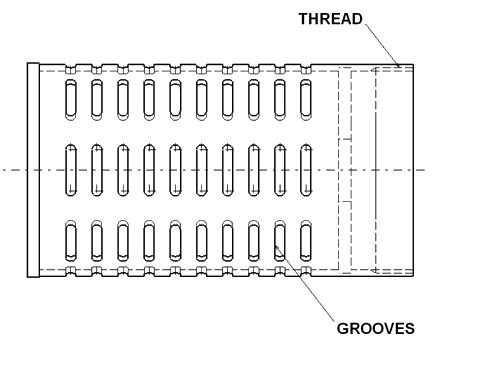 Advantages
The advantages of the strainer are as follows:
No moving mechanical parts
High reliability
The section and the number of grooves guarantee optimal flow
Calibrated orifice integrated into the strainer
Easy and quick installation and disassembly
Assembly and conditions to be respected
The general conditions to respect in order to install a strainer are as follows :
Depending on the case, a method of fixing must be provided. Canplast is willing to provide this fixing system.
Assembly and disassembly of the strainer using the threaded fixing system.
| | |
| --- | --- |
| Case 1: Removable strainer to fit | Case 2: Removable strainer with overflow to fit |
|   |   |
| Case 3: Removable strainer with flat surface fixing plate or curvilinear surface | Case 4: Removable strainer with overflow and flat surface fixing plate or curvilinear surface |
| | |
Figure 1: Display of the various possibilities of realisation